Lisa is available for Workshops or Private Lessons.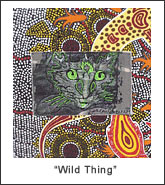 Creative Constipation: How Do You Spell Relief?
Are you at a creative standstill – don't know how to get out of your rut or get started on a project? This lecture will focus fun and innovative tips to jumpstart your creativity. It's an interactive lecture that creates lots of laughs in the process!
$250.00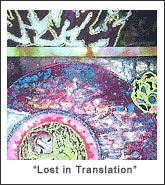 TACTILE SURFACES: Mixed Media Techniques for your Quilts
Working in a mixed media format is the equivalent to your first day in kindergarten, when you take out your cigar box with all your "tools": crayons, paints, papers and glues and go to town making your "masterpiece". This class is the same concept, with the exception that now you are an adult and the tools are more sophisticated and the effects more poignant. This can be a messy, wet and sloppy process. It is really important not to wear anything that you don't consider "disposable".
I know that the attached supply list is extensive and may be considered daunting. Please do what is within your budget and what you are comfortable with. The attached list is the "optimum" list. It is only logical that the more materials you have, the more options you will have when you are creating. What you will receive in this class is a one day "CRASH COURSE" in the overall aspects of mixed media.
I always encourage my students to be willing to share what you bring. We have ALL forgotten something for a class at one time or another, or seen something on someone else's workspace that would make our piece "perfect".
Approximate Supply Costs: $70-85 dollars (depending on stash)
Click here for a PDF file of the class supply list.
I AM WOMAN HEAR ME ROAR!
This quilt is "All About You"... what you consider is representational of being a woman in general and specifically about you. Remember, Men are from Mars, Women are from Venus…as the book says. You can also do a quilt on a woman you admire or have strong emotions towards!
THIS IS STRICTLY A DESIGN CLASS-YOU WILL FINISH YOUR QUILT TOP OUTSIDE OF CLASS – you can bring your machine if you are a "quick" designer and want to finish or just come to design "MULTIPLE" pieces! FINISHING TECHNIQUE WILL REQUIRE THE ABILITY to do some FREE MOTION STITCHING or MACHINE APPLIQUE
COME PREPARED WITH A LIST OF WORDS YOU FEEL BEST DESCRIBES BEING A WOMAN, YOU AND YOUR MOOD.
Click here for a PDF file of the class supply list.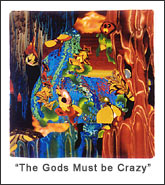 "WHAT'S IN A NAME" - The Making of an Art Quilt
CLASS OBJECTIVE:
A class for the beginner quilter, who may be intimated by non-traditional quilting techniques and results. Working in a non-patterned, spontaneous environment, given a "quote or title" for inspiration such as:
"The Devil is in the Details"
"A Rolling Stone gathers no Moss"
"Silence is Golden"
"I'm Dancin' as Fast as I can"
"A Sliver of Hope" (Note: A Quilt I produced)
"An Ovarian Attitude" (Note: A Quilt I produced)
SOME FREE MOTION EXPERIENCE IS A MUST.
with detailed instruction on how value, fabric pattern and positive versus negative spaces can be dealt with to display an idea. Once base "Quilt Top" is completed, instruction on how Mixed Media Techniques can enhance (threadpainting), paint, found objects, etc.).
LEVELS: Good for all Levels; More advanced Students, this becomes a "Studio" type of class TIME FRAME: Two Days (6 hours per day for best effect). Could do consecutive (Sat & Sunday) or alternating Saturdays or Sundays. (I have day job).
Click here for a PDF file of the class supply list.
Lisa Chipetine
707 Maple Place
West Hempstead, N.Y. 11552
Email:
Lisa@threadplay.com
Phone: (516) 857-3228